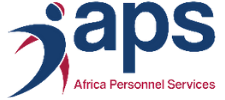 Facilitating livelihoods for thousands of people across Africa and beyond.
61 Burg street, Klein Windhoek, Namibia

June 8, 2021
Company Information
Africa Personnel Services (Pty) Ltd
As the market leader, Africa Personnel Services (APS) offer employment solutions since 1996.
Our international business is built on sound Human Capital principles while offering all our clients the highest levels of loyalty, integrity, and respect.
Offering you a personal experience that adds value and ensures sustainable growth for your organization.
Leaders in multi-career opportunities.
Facilitating livelihoods
for thousands of people
across Africa and beyond.
Honesty, Integrity & Reliability
Africa Personnel Services specializes in recruitment and management of capable candidates to fill our client's peaks and valleys for staff requirements in order to keep their daily operations profitable. We pride ourselves in the quality of our employees and ensure employees condone all our values.
Since our establishment, APS prides itself as a leader in personnel management. APS celebrated its 24th year of excellence in October 2020.
Current job openings at Africa Personnel Services (APS)